PowerCom Box (with 2 years data)
The PowerCom Box is a smart device for powering the SulfiLogger™ sensor and transmitting sensor data to the cloud.
Required accessories
A power/4-20mA cable and a RS-232 cable are required to use the PowerCom Box. The PowerCom Box uses disposable batteries, which must be ordered by SulfiLogger­.
Description
The PowerCom Box is a smart device for powering the SulfiLogger™ sensor and transmitting sensor data to the SulfiLogger™ WebData cloud service via cellular connectivity.
Cloud data – anytime, anywhere
In the SulfiLogger™ WebData cloud service you can: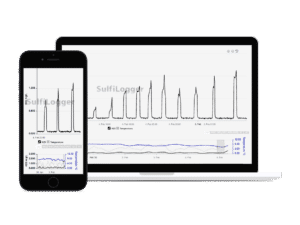 Follow the development in H2S on any device and at any time
View and compare data from one or more SulfiLogger™ sensors
Export CSV data for further data analysis
Integrate sensor data into other systems using the REST API
Portable solution for easy installation in the entire sewer network
The battery-powered PowerCom Box transforms the SulfiLogger™ sensor into a fully self-contained sensor system ready to be deployed virtually anywhere in the sewer network. With the PowerCom Box, the SulfiLogger™ sensor can be used either as a portable sulfide mapping tool across the network or for permanent monitoring at a single installation site.
SCADA connectivity and DC power input
In addition to transmitting cloud data and powering the sensor, the PowerCom Box also acts as a gateway for easy SCADA/PLC integration using 4-20mA connectivity, and the device can also be powered by a DC power input.
2-year data subscription included
A 2-year data subscription to the SulfiLogger™ WebData cloud service (worth €800) is included with every PowerCom Box. A single PowerCom Box connects to a single SulfiLogger™ sensor, and the data subscription services are available on a per-unit basis for each PowerCom Box.
Cloud data specifications
Cloud data service
SulfiLogger WebData
Data types
H2S (mg/L or ppm)
Temperature
Time resolution
1 minute
Transmission frequency
Every 6th hour
Compatible device types
PC, Tablet, Smartphone
Compatible browsers
Chrome, Edge, Safari, Firefox
Data export
Data export to Excel (CSV file)
System integration option
Standardized REST API
Technical specifications
Power input
Batteries or DC power (6-12 VDC, min. 2A)
Battery lifespan
3 months (estimated)
Data output
Cloud data
4-20 mA (24 V) for SCADA/PLC
Connectivity
2G/3G/4G* (embedded SIM)
Antenna options
Internal (included)
External (optional)
*Depending on the country.
Mechanical specifications
Dimensions
206 mm x 167 mm x 90 mm
(8.1 in x 6.6 in x 3.5 in)
Weight
1.2 kg (2.6 lb)
Material
Polypropylene
IP rating
IP67
Interface
Status LED
On-off switch
Mounting accessories
Crossbeam clamps
Wall mount brackets
DIN-rail brackets
Other specifications
Certification 
ATEX marking**
II 2(1) G    Ex ib [ia IIC Ga] IIC T4 Gb
II (1) G    [Ex ia Ga] IIC (with ext. connections)
Data subscription
Available on a per-year basis
Warranty
12 months***
** Additional Ex specifications are listed in the Installation Manual.
*** When used in accordance with the Installation Manual.
Additional resources
Recommended accessories