H2S sensor system for biogas processing
You can improve the management of H2S in the biogas production, if you can identify peaks in H2S levels in the biogas production process precisely. This will make it possible to dose H2S scrubbing chemicals such as active carbon and iron oxide very precisely and cost-efficiently.
Until now it has been difficult to identify such peaks and chemicals are used in excess to reduce H2S levels.
Precise measuring of hydrogen sulfide in biogas and liquid
With the groundbreaking SulfiLoggerTM  sensor it is now possible to precisely manage the levels of H2S in the biogas production process. The sensor measures directly in the gas and can withstand extreme environments with high levels of H2S as well as anoxic and wet conditions. It continuously measures the levels of H2S and provides real-time data, giving you a complete overview of the presence of H2S at any given time.
More precise chemical dosing with the data from the SulfiLoggerTM sensor:
dose chemicals such as active carbon and iron oxide correctly, leaving no spikes untreated but without overdosing
calculate levels of corrosion over time, allowing for more cost-efficient proactive planning of maintenance and downtime
The challenges H2S present in biogas production today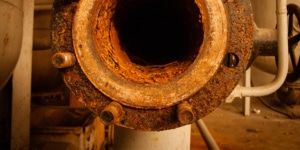 Hydrogen sulfide presents major challenges when it comes to biogas production. H2S is highly toxic and causes corrosion, which can damage mechanical and electrical equipment used for process control and energy generation. Before the biogas can be used the levels of H2S are lowered by scrubbing with activated carbon or iron oxide or through biological removal. The levels of H2S are often monitored using traditional gas analyzers or manual sampling. However, the scrubbing processes are often hampered by signal drift and limited lifetime of existing H2S sensors. Due to high H2S exposure, changes in temperature, extreme humidity, and fouling, most analyzers are known to lose their accuracy after just a few weeks of operation.
Benefits
A complete and real-time picture of H2S levels
An ATEX approved design (X series sensors)
Instant feedback control for chemical dosing pumps
Short response time allowing for fast detection of variations in H2S levels
A very robust sensor design with a small reaction chamber that clears out fast leading to speedy recovery and minimal hysteresis/history influence on the sensor readings
A unit that can operate continuously under both anaerobic and wet conditions and in all concentrations of H2S
Case studies: