Horizon 2020 pilot project initiated
Kicking off 2019, Kirsten and Ebbe from Unisense have installed an SulfiLoggerTM H2S sensor in the sewers of Aarhus and thereby initiated the pilot project phase of the Horizon 2020 research and development framework.
Installed in a wet well at a pumping station in the outskirts of Tilst near Aarhus, the first sensor is installed at a location previously associated with residential complaints from the characteristic rotten-egg smell of hydrogen sulfide.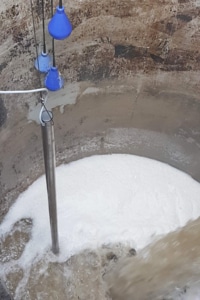 Root-cause analysis
The sensor, an SulfiLoggerTM S1 1010, is powered by a portable battery box placed on top of the wire grid at the well cover. The portable nature of the SulfiLoggerTM S1 1010 makes it ideal for root cause analysis in rural regions without easy access to power or SCADA connections. Mounted in a free hanging installation, the sensor is attached at the end of a steel extension pipe to prevent fouling along the power cables.
Horizon 2020
The SulfiLoggerTM sensor is supported by the European Commission's Horizon 2020 research and development framework in which Unisense will demonstrate both the short and long-term potential of the SulfiLoggerTM H2S sensor. During the pilot project phase, Unisense will install a series of SulfiLoggerTM H2S sensors at select wastewater sewer networks in Aarhus and Aalborg prior to the full-scale test involving 100 sensors in Aarhus, Aalborg and London, which follows later in 2019 and 2020.